"Missing Guam" a fun short film by Adam Go
"Missing Guam" is a short film that shows you what a dog goes through and probably thinks about at an airport just before his flight to another country.
However, I'm pretty sure my dog was nervous throughout the whole ordeal but it's always fun to engineer a story! lol.
I originally filmed my dog because I was really curious to know what my dog would be going through at the airport for our flight back to Japan. However, as time passed, ideas began popping into my head and I made it into a simple fun film dedicated to Guam and my family.
How I did it
In order for me to film, I asked the permission from both JAL staff and Airport Security to record. This is the most critical component of "Missing Guam". If I did not have permission, none of this would have been possible. Thanks guys!
In the film, you can see them checking the inside of the kennel but I edited out a long segment of film where they checked every square inch of my dog's body and my dog's cage for any kind of contraband. They also did a swipe test on my camera to detect any bomb residue… all of this was time consuming but very professional to my opinion.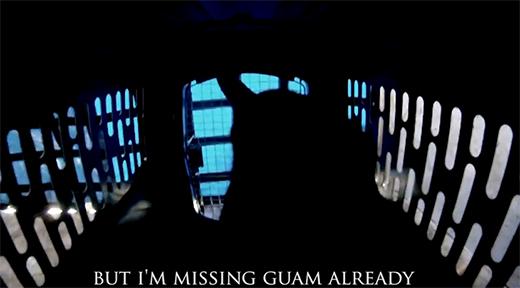 What I Used
The interior of the kennel which is the main part of the film was taken using a GoPro camera mounted with an adhesive mount. Other still shots you see in the flashback scenes were taken with a Canon 5D Mark 2, a 7D, a Casio compact camera, and a compact Canon HD Cam using a modified rig for stable shots. Several Canon lenses were used as well for this film.
I would also like to acknowledge that my girlfriend Kumi and my brother, Alan Ryo, took some photographic shots seen in the flashback segments. Kumi took the shot were you see my brother and I getting wiped out by a freak wave and my brother's shot, is being credited with a silhouette shot of me and my dog on top of a rock during the sunset hours. Both are great shots and I thank you both.
Just a note
The GoPro camera seems to be a very useful tool among serious amateurs and professionals wanting to take great shots. This Kennel POV shot of my dog would not have been technically possible if it wasn't for the smart invention by Nic Woodman and his now famous company GoPro. After using the GoPro for many months in Guam for many crazy activities, I was able to take shots I always wanted to take many years ago! The GoPro gives me the ability to record my adventures… in this case, my dog's adventures.
With a little bit of creativity on how the footage should be composed, I present to you this short fun film.
I hope you enjoyed it!
*I use affiliate links at no cost to you. If you choose to make a purchase through my link I make a small commission. Thank you for trusting my recommendations!