The JVC Picsio GC-WP10A Compact Video camera is more of a mini-camcorder than it is a camera. The camera itself is waterproof to 10 feet without any external housing. It features a 3" touch panel screen and does everything from capturing video, taking photographs, and simple playbacks review.
This camera also has an image stabilization system to help produce smooth video. The aperture is wide at f2.8, which is standard these days for most compact camera lenses. After using this camera as a diver, I do have some things to share whne using this camera in the water.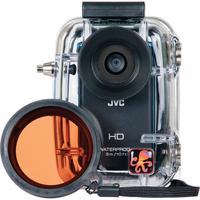 Images
For a camera that doesn't have manual settings and that automatically sets the exposure, shutter speed, and stays at one aperture (f2.8)… I would say the images that come out of this camera are fair.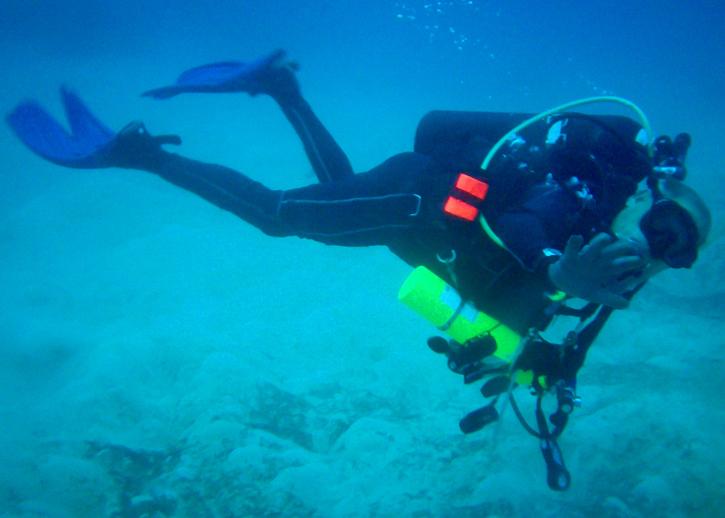 This image above was shot with a red filter at 50 feet and you can see the color effects  with safety sausage being neon orange. In addition, notice the motion blur produced by the diver's fin. This is because the camera automatically set itself to shoot at 1/30th of a second at f2.08 something I can't control… Interestingly no data on the ISO exists with this camera…  strange…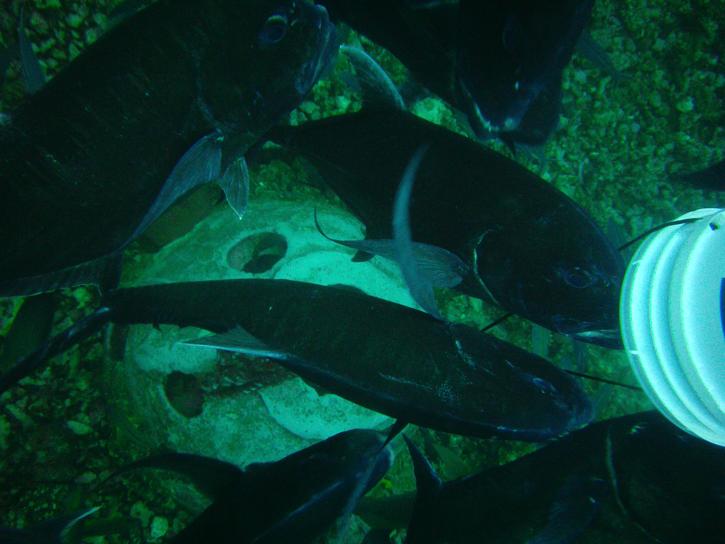 The image above was shot without red filter at 1/100sec with an aperture of f2.8.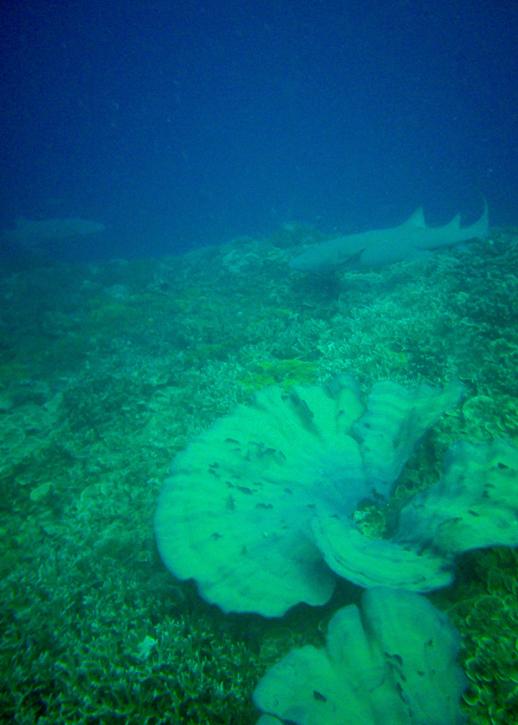 This image above is out of focus because I was physically and techinically unable to select my focus point on the shark to the right with this camera due to the design of the underwater housing. Digital noise is also present in the picture as well. This image was shot at 1/100 secs @ F2.8.
Video
HD Video is bad… The video below was filmed by the owner of the JVC… The footage could be used for family filming but not for some pro stuff.
I don't see how the video is HD in any way. I mean you can't compare to this… http://adamgo.com/video/guam-diving
Build
The build of the camera is decent. The camera feels strong and there are dust/sand and water protectors for the electrical slots. The build of the underwater housing is also good but it is quite bulky and this causes me problems underwater because the bulkiness makes the housing positively buoyant causing it to float and get in my face every time I hook the camera to one of my D-rings that are located at my chest area.
Performance
Most of the images I took turned out good, but I did have some incidents where the camera will not shoot even while repeatedly pressing the shutter button. Other things I would like to add is poor battery life to today's camera's standards, hard to see screen when used in bright light, and  The mother of bad performance goes to the Ikelite underwater housing.
From my personal experiences with this camera, all the problems about this camera arise when it is used with the Ikelite underwater housing because the housing was not engineered really well. The design and placement of buttons of the housing hampers the photographers ability to use the camera to its full potential. Main actions such as selecting a focus point and choosing camera settings are not possible when used with housing… It was definitely hard to use when SCUBA diving.
What's worse is when the camera turns off after some time of inactivity… I am forced to turn on the camera, only to find out that there is no way to select video or photo shooting mode. It's so stupid, it makes me wonder if the people who designed the housing tested the camera underwater.
Cost
It's cheap and there's a reason to it… according to my friend who bought in on sale, he got it for $200 USD for both the camera and the u/w housing. Sounds like a great deal but you get what you pay for.
Bottom Line…
I wouldn't get one given the fact that there are better cameras out there in the market.  For a few extra bucks, I would rather get the GoPro camera or a Canon compact camera with a full button function underwater housing. Period.
But if you already have the camera, or someone gave it to you, I would ditch the underwater housing and use it's 10 feet waterproof for those fun water sports such as jet skiing, kayaking, fishing and other water activities that don't involve the camera going below 10 feet.
*I use affiliate links at no cost to you. If you choose to make a purchase through my link I make a small commission. Thank you for trusting my recommendations!