A new model of the popular HD sports cam is now on sale and it's better than the last one!
The new GoPro HD Hero 2 is out and it looks like its better than the original HD Hero… Here's why!
Just when I thought the GoPro Hero 1 was the ultimate outdoor HD cam, GoPro comes out with a better one!!!

(My Review of the original GoPro Hero HD CAM)
Here's some stuff I got from GoPro… It's up to you to decide!!!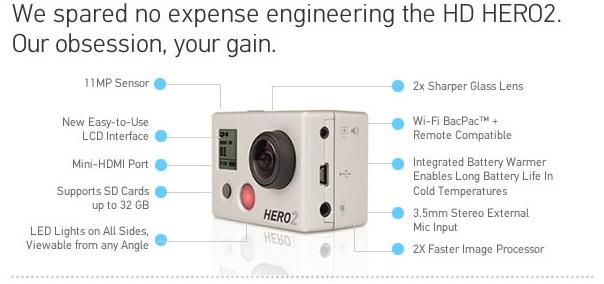 Professional 11MP Sensor
2x Faster Image Processor
2X Sharper Glass Lens
Professional Low Light Performance
Full 170°, Medium 120°, Narrow 90° FOV in 1080p and 720p Video
120 fps WVGA, 60 fps 720p, 48 fps 960p, 30 fps 1080p Video
Full 170° and Medium 127° FOV Photos

10 11MP Photos Per Second Burst
One 11MP Photo Every 0.5 Sec Time-Lapse Mode
3.5mm External Stereo Microphone Input
Simple Language Based User Interface
Compatible Wi-Fi BacPac™ and Wi-Fi Remote™

Long Range Remote Control of up to 50 GoPro Cameras
Wi-Fi Video/Photo Preview + Playback
Live Streaming Video + Photos to the Web
This camera is going to wicked! I look forward to testing its night time capabilities because truly, the GoPro Hero 1 night mode isn't that great at all!