With an estimated price of $6,500 ~ $7,000, the new pro camera Canon 1D X has the features that could be worth the money and it could be the best dslr camera to date. This is why!
Comparison between the 1DX and the 5D Mark 3
Canon will be releasing its newest camera, the Canon 1DX, which they claim can shoot without flash in almost any low light scenarios no-flash required!!!. They also brag that it's going to be the ultimate camera to date.  One question… is it worth the money? Let's see.
 So what makes Canon sound so COCKSURE about their newest camera?
Here are some key features that I think make the Canon 1DX a very powerful camera to have especially for the pros:
a full frame CMOS sensor (36 mm x 24mm), just like the 5D Mark 2 but better and technologically advanced.
2 Digic 5 Processors for faster high quality imaging. (17X faster than it's recent camera).
a Whopping 12 frames per second or 14 fps when shot at high speed mode.
61 AF POINTS…. no seriously… wtf? Do we really need that much?
HD video with manual shooting control that can shoot at 60P, 24P, 50P… and a fast touch HD record button.
a 3.2 inch clear view lcd screen that is rumored to be better than many computer monitors!
How will these features of the 1DX help photographers take better pictures?
A full frame CMOS sensor allows the photographer to shoot full images without any cropping seen with APS-C size sensors. In addition, because it is an innovated full frame CMOS sensor using 2 Digic 5+ high speed processors. This camera can shoot from 50 ISO all the way to 204,800 ISO with virtually no noise. Thus allowing a photographer to shoot in almost any light conditions especially for indoor party shots at weddings or for landscape shots. Need to test and confirm this!!!
Look at those two beauties!!! 2 Digic 5+ Processors for higher image quality that allow the 1D X camera to shoot at 12 frames per second which are great for sports and any actions/portrait shots.


61 AF Points that allows the photographer to focus on more area and detail of a subject seen through the cameras lens (helpful for portraits, nature, and macro).
 Video Capabilities
HD video on this 1Dx could be the envy of many videographers because this camera now features manual exposure control shooting at the most commonly used frame rates such as 24P and 60P at full frame. The popular Canon 5D Mark 2 can film at 24P but cannot film at 60P. The 60P and the Canon 1DX's full frame capability may mean something new and very rare in the field for cinematography.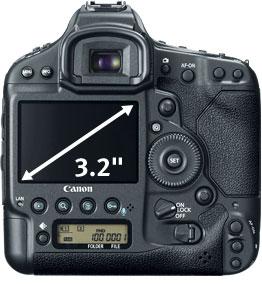 3.2 inch Clear View 2 lcd screen will help photographers see if their shots are 100% what they want instead of having them to rely on checking the exact quality of the photos on a LCD screen… Seeing how the trend in camera LCD screen is doing… this could be the end of the saying "never trust your camea's screen".
With all these remarkable features in mind I'm really curious about  how the 1DX will be received because one of my key concerns about the 1Dx is that almost everything that was expected to be in the 5D Mark 2 replacement is in this camera… So I'm wondering… will there be a replacement for the 5D Mark 2? 

Note: Although this article only covers just some of the key points of the new 1Dx, I will add more thoughts once I finally get the chance to hold and test the 1Dx. I would really like to get one of  these but will have to wait until March 2012 to get one. Until then, all I can do is try to compare the differences.
All the images you see here are courtesy of Canon and if you want more detailed information about the camera, try checking out the 1DX on the Canon Site.