There are a lot of expensive lenses out there. From the prime Ef 85mm F1.2 IS II USM that costs around $2,300 to the heavy EF 800mm F5.6 that cost around $14,000 dollars. It's a no-brainer why photography can be an expensive hobby or a profession that usually starts many pros with a low profit margin! However, pro or amateur, one of the lenses that I highly recommend is the EF Canon 50mm F1.8 Mark 2.  This IQ (image quality) of this lens is just amazingly clean and sharp producing amazingly great images for less than a hundred bucks!
The EF Canon 50mm F 1.8 lens is the cheapest and lightest lens in the Canon EF lens line. Weighing at 130 grams, it is very light and it looks cheap as hell. Everything that is visible except the glass and the lens sensor is made out of plastic.
What got me to get this lens in the first place was that it was very cheap (The current price as of September 2011 is $104.95 compared to 2009 when it was $85.00). Last I checked eBay the cheapest brand new lens I found was going for $99.58.
Anyways… when I got this lens, I assumed I could use this lens as a disposable/ back up lens but it turns out that the EF 50mm F1.8 became one of my favorite prime lenses especially for low light indoor photography especially without a strobe.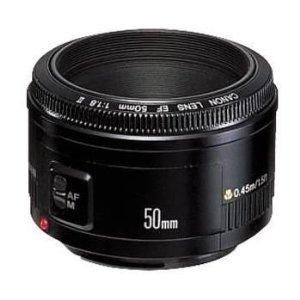 Specifications
Main Unit Spec
| | |
| --- | --- |
| Focal Length & Maximum Aperture | 50mm 1:1.8 |
| Lens Construction | 6 elements in 5 groups |
| Diagonal Angle of View | 46° |
| Focus Adjustment | Overall linear extension system with Micromotor |
| Closest Focusing Distance | 0.45m / 1.5 ft. |
| Filter Size | 52mm |
| Max. Diameter x Length, Weight | 2.7″ x 1.6″, 4.6 oz. / 68.2 x 41.0mm, 130g |
*I use affiliate links at no cost to you. If you choose to make a purchase through my link I make a small commission. Thank you for trusting my recommendations!