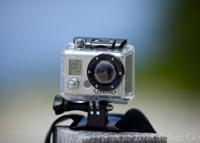 Hands down, the little camera from GoPro has proven its performance, quality, and durability despite its size and unbelievable low price for a HD camera. The HD video camera itself is really small but the little badboy can capture sharp, clear, wide-angled and high definition footage.
As the camera comes with a series of mounts, the 200 feet water-proof housing is easily mountable to almost any surface such as your bike, car, motorcycle, airplane and even your head, giving your audience a pretty cool point-of-view. To my opinion, there is no other way to safely and conveniently record your adventures in HD!
Table of Contents:
(As of 10/24/2011…The NEW Go PRO HD HERO 2 is available at gopro . GoPro says their new camera is 2 times better with everything! ) Another good news… the GoPro Hero is now $60 cheaper selling at $239.99 from it's original $299.99!!!

The gopro camera can record full HD video, take photographs, time-lapses, and has a built in timer for those group shots everybody wants to be in. I got the GoPro HD Helmet HERO.  It's headstrap I thought could be useable in almost any situation from diving to hiking. Overall, the Gopro is a cool camera to have and here are the following reasons why I'd recommend having one.
To check out some projects I did with the GoPro, click here
Durability
The camera is protected by an outer polycarbonate housing, which is really strong and safe. I have dropped and banged my camera on rocky surfaces on several occasions during outdoor hikes and the most significant damage ever sustained would be some scratching on the lens which did become a major problem for a filming project. However, the lens is easily replaceable and for the amount of 20 dollars, you get two brand new replacement lenses that only requires a screw driver and five minutes of your time. Talk about convenience.
Battery
The battery life is actually amazing on this little camera. The gopro camera is powered by a lithium ion battery pack. With the battery, the camera can film up to 2.5 hours and I have tested the power performance on the camera both on land, air and sea. From my observations, the gopro last longer in the air and land than when used in the sea. I guess environmental factors when using deep in the ocean such as the cold and darkness could be the main factors to lower battery output but who stays underwater using a breathing apparatus for more than 2 hours?
Charging the battery can take a while if you charge it with your computer via USB (up to 4 hours). It is faster if you charge the gopro using an USB electrical outlet, which can take up to 2 hours or less. So if you don't have time to charge, I highly recommend getting another battery which is only 20 dollars.
Audio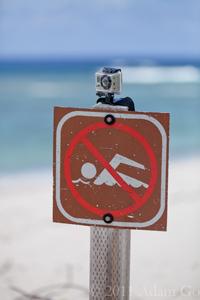 The audio is another feature I am amazed with. When recording talking, sounds of animals, or just waves from the beach, the audio is amazingly nice and clear when using the open case cover. It is interesting to note that I used some audio from the gopro when my zoom audio recorder failed and I couldn't tell the difference between the two. Saved my life!
I haven't tried the open case cover when mounted on a moving vehicle and such but when using the closed cased cover, I noticed that the recorded audio sound muffled. Most times, the audio that you can only hear when using the closed case cover is the wearer's voice and people or objects that are about 3 to 5 feet away.
Data Storage
The GoPro cameras store its captured data on a sd cards. GoPro recommends using SDHC cards. I use a Transcend 32 GB Class 10 SDHC card and it works like a charm.  Although large storage sd cards like the one I have can be a little bit expensive, I think it is worth it because it saves the hassle of changing sd cards during a shoot, which also reduces the possibilities of losing an sd card on the field or damaging your camera when swapping cards during a day with all the nasty elements. With a 32 GB shooting at 720p, I can last up to almost 6 hours and not worry about changing sd cards.
Btw, I got this from GP's customer support and this pretty much sums up the storage capacity. (btw… their customer service is pretty email responsive!)
Average recording times:
R5 1080p: 12 min/GB
R4 960p: 14 min/GB
R3 11 min/GB @ 60fps; R2 720p: 16min/GB @30fps
Video and Picture Quality
Finally… we go into quality. The quality is just plain awesome when shooting with good lighting. As a note, when you are filming at WVGA mode (the lowest mode, which is R1), the quality is decreased but you get more storage meaning you last longer, especially if you're using a small 2Gb SD card.  Remember, that filming with a 170 degree AOV (angle-of-view), your images when captured from afar will look a bit distorted and it will also make some subjects of interest look a bit small. However, I prefer to shoot with a 170 degree AOV because it enables me to capture everything I point the GoPro at. One more advantage of shooting at 170 degrees is that it reduces those tiny vibrations. Overall, the video quality is superior and I would use it for any outdoor pro video shoots
For photos, it can't compare to a 5D Mark 2 but it still can take quality photographs! For example this image below of Fonte Dam in Guam. This picture was taken with the GoPro camera. The only alterations I made was to decrease the image from it's 5 megapixel format to a size that suits this article.
Below is a video I took with the GoPro called Guam Diving. If you want to see the Time-lapse work I did using the GoPro check the previous link out.
.
If you are still skeptical, check out the GoPro website or my videos and judge the quality for yourself. You will be amazed with what this little camera can do.

Some Disadvantages
Every good thing has a catch! And the GoPro HD cam is no exception.
However, the following four aren't such a big deal because they are correctable. But so you know… all the good stuff doesn't all come out of the box… Let me begin with the first disadvantage.
1. One of the things that can be a problem with the GoPro is that there is no built-in LCD screen. This lack of a screen forces me to  visualize and estimate where the subject will be at while filming.
Solution:  Get the extension LCD pack for 80 dollars. The bad news is, is that it only works for the GoPro Hero 1 and 2. The LCD extension will not attach to the 960 Hero, which is the cheaper camera. Also, it is worth the 80 dollars because it enables the shooter to see, hear, and review what they got at the spot. Very important for professionals.
2. The poor low-light performance on this camera despite having a F2.8 aperture and auto-exposure feature.
The GoPro Hero will still film at night but the quality due to the increase in digital noise makes night footage unusable for professional vids.
Solution: use additional articial lighting to light up the subject or don't bother using the gopro at night.
3. The underwater footage recorded without a flat lens adapter gives recorded data a slight blur and this is because the gopro outer lens has a curvature which increases sharpness for land use. However, when used underwater, the curvatures actually distorts the light underwater causing a slight blur to all recorded media.
Solution: Modify the front end with a flat lens. GoPro states that they are making these flat lens adapters but it's been a while now. I 'm just curious but when will GP start selling their flat lens housings???
4. Last but not least… given its 2 button configuration, it may be hard to navigate the menu settings. It will take some time to get used to the settings of the camera but again its not a big deal once you get used to it. The camera comes with an easy to read manual that is also available online.
The Bottom Line
The gopro camera is a revolutionary hd cam. It's cheap, wearable, mountable, submersible, beatable, and most importantly usable! You can use it for professional shoots all the way to fun simple activities spent with family, friends, and the dog. After some time with the gopro… this small camera has been one of my most used cameras for outdoor filming simply because it is small and produces awesome high quality footage.
In addition, if you think the gopro hero is  good enough, try out the newest model that called the GoPro HD Hero 2. GoPro claims it's 2X better with everything! The review of the GoPro Hero 2 will be coming out soon! Check out my blog on the GoPro 2 http://adamgo.com/blogs/gopro-hd-hero-2
Check out the official GoPro Website at http://gopro.com and get a GoPro Hero 2 Camera for just $300 or the Original GoPro Hero for $240!
I highly recommend you buy directly from the gopro website because you are assured that it's 100% authentic, you get a 1 year warranty, all the accessories and information you need are there, and there is a great and responsive online customer support especially for your online orders!
If you want to see more videos… check out http://adamgo.com/adamgo-captures/video

More Blogs about the GoPro HD Cam
*I use affiliate links at no cost to you. If you choose to make a purchase through my link I make a small commission. Thank you for trusting my recommendations!