During the month of August 2011, my brother and I decided to film Guam's underwater treasures with a gopro camera.
The problem with using a gopro camera underwater is that footage will be blurred due to the curvature of the housing lens.
However, as of 2012, the GoPro company fixed this with the Hero 3 that now uses a fixed flat lens for optimal sharpness anywhere on the planet!
With a little modification by placing a flat lens filter, I present to you the first of hopefully many videos of Guam Diving… (for my detailed review of the GoPro check my GoPro article!)
 (Update as of 5/23/2012 GoPro now has their own official dive housing that features a sexy housing with a flat lens and cover. )
Guam Diving from kumidia HD on Vimeo.
It was a challenge to film smooth shots especially with a small camera like the
GoPro
. I tried using the helmet strap but the footage was too shaky given the fact I'm sort of a all-around observer for all kinds of underwater life. I figured… in order to take better shots,
I rigged a 3 foot long 3/4″ pvc pipe and mounted the camera to the end of the pipe, which is so simple, anyone can do.
Holding it like an assault rifle, this gave me more stability while flutter kicking 80 feet below.
Here's a pic of my bro holding the rigged camera mount.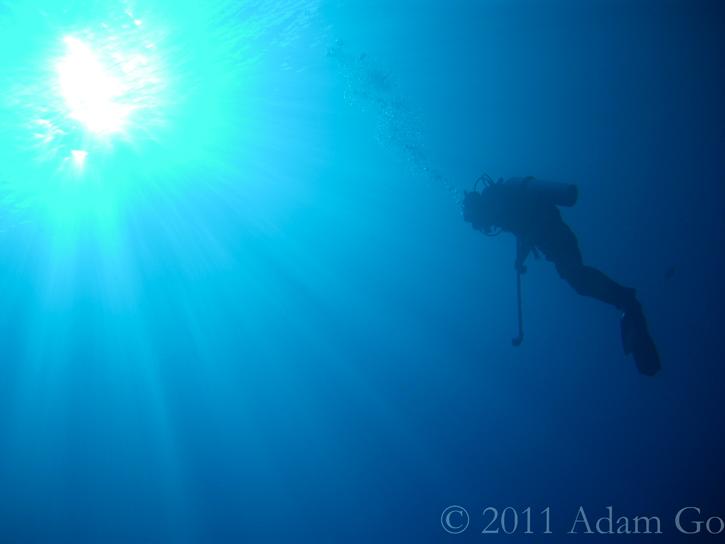 Any questions?
All footage you see in the video "Guam Diving" was taken solely with the GoPro with no external strobes. The footage was editted using Adobe Premiere. Btw, as an update as of the summer of 2012. GoPro now sales the GoPro Dive Housing
. Get it so much cheaper through Amazon!
To avoid camera shake, it's always best to shoot with the widest FOV (field of view) setting possible. On the GoPro Hero 1, I shot at the R3 setting (60FPS, 720P, and 170 degrees field of view)
If you would like to know what I think about the GoPro, check out http://adamgo.com/gear/9-gopro-hero
For more videos taken with the GoPro, check out http://adamgo.com/adamgo-captures/video
For what I used to take stills underwater… http://adamgo.com/blogs/underwater-photos-with-an-exilim
More Blogs about the GoPro HD Cam