Google will be updating their privacy policy effective March 1, 2012.
Since I believe a vast majority of people around the globe don't read privacy policies, I'm writing this blog to give you the heads up because most of us use Google's products that play an important role in our everyday lives.
The new policy update is meant to be a simplified version written in plain English that is designed to integrate the privacy polices of most of Google's products and major services like Gmail, Youtube, Google SkyMap, Android, and etc.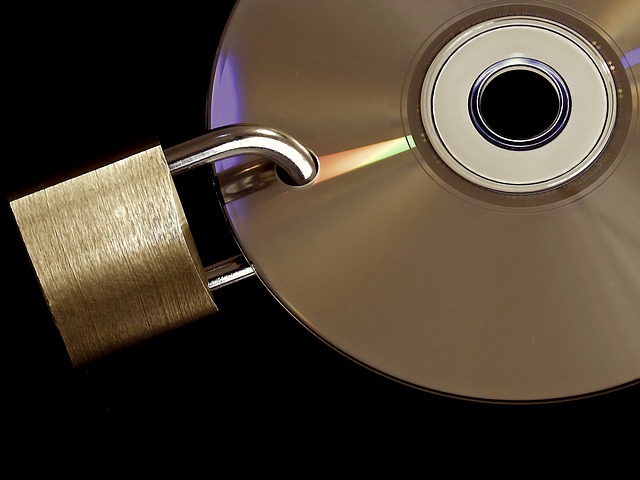 The Good News
The good news is that we will only have to read one policy and it's easier to comprehend unlike many legal documents.  Check out the preview: http://www.google.com/policies/privacy/preview/
The "other" good news is that once effective, they will be sharing your information among search teams and services to provide better ads. ( Better advertisements bring more revenue, and this revenue helps keep services such as Gmail, Docs, Earth, and other products free! This also brings the possibillity of new free awesome services!!! The coolest services I've encountered so far is Google Sky Map! It's crazy!
The Bad News
The bad news is I don't know what to really expect with this new change besides better ads that are targeted to our interests… The ad below should be targeted to your interests or search habits.

Anyway, I've been using Google services since 2004 and to date cannot find a better alternative to Google because Google has been the best in providing communications, online searches, and research tools that has provided hundreds of millions with cost-performance instruments that have helped progress minds, businesses, and agencies in the world.
But… privacy may be an issue for some of us so I recommend the following tips:
Review and control certain types of information tied to your Google Account by using the Google Dashboard.
View and edit your ads preferences, such as which categories might interest you, using the Ads Preferences Manager. You can also opt out of certain Google advertising services.
Adjust how your Google Profile appears to particular individuals.
Control who you share your personal and other information with.
Take out very sensitive information out of Google's services.

Take advantage of Google's 2 step verification

so that the wrong person can't hijack your account and steal your information.
To erase your Google History Searches:
Sign in to Google.
go to google.com/history
Select the button to erase all search history. 
Basically, if you don't want anyone to know your phone number, don't put it on and set it for the whole world to see!
For those of you who do not use 2 step verification yet, I highly recommend you to activate it because it makes it almost impossible for malicious users to breach your account. It works simply by sending you a 6 digit verification code via telephone. For smartphone users, there is an app called Google Authenticator that generates a code every 15 seconds. It's just like a bank's verification system but simpler without the bullshit. There are also top notch countermeasures you can take just in case you lose your phone.
Again, please take the necessary precautions provided. Otherwise if you don't trust google, delete your account and enjoy the world like it was in the 80's. If you really do that, you'll be on my list for badassery!
—————- Update as of 01/28/2012 12:00 TYO Time ———
Google just officially notified all google users. Upon logging into your Gmail, I came up on this.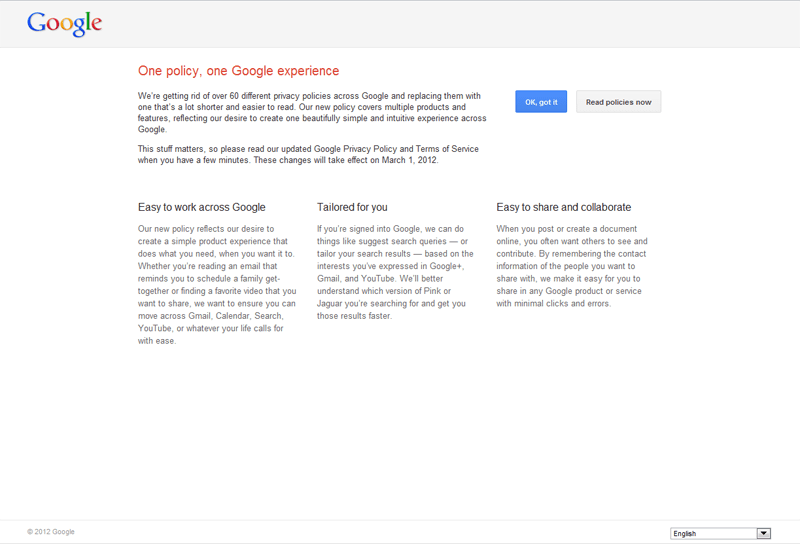 The second page if you click on "Read polices now".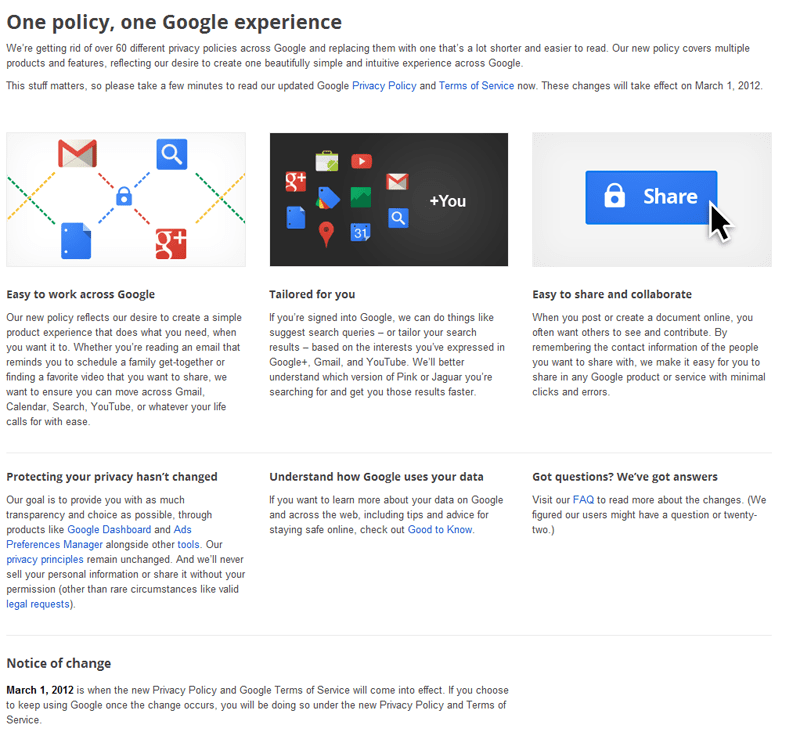 The one month notification beforehand is something I appreciate.
For the great services that Google offers, I think sharing my search info and some user details is worth the free services they offer. I'm still going to stick with Google. Besides… who can go back to hotmail or yahoo mail? lol