(UPDATE 06/05/2012: THE WIFI BACPAC IS FINALLY HERE!)
For the fourth time it has happened again. Although unclear if there is another delay, the GoPro wifi-bacpac page has changed and this time there is more uncertainty to the exact release date for the Wifi-bacpac. First it was April, 2012, and now it's more ambiguous… Spring, 2012.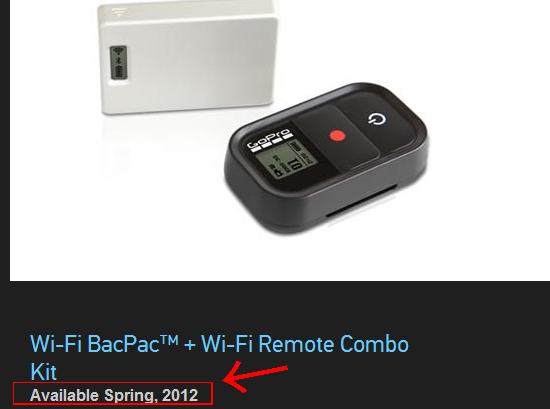 So the spring season consists of the months March, April, and May (for those in the northern hemisphere). Right now, we're in the middle of April. Does that mean our safest bet is to wait until the end of May?
Whatever the case, GoPro fans have become really impatient and the "vague" release date has seemingly provoked many GoPro fans. Some are curious to why the wifi-bacpac is having trouble being punctual when it was supposed to come out in February 2012.
The Theory to the Delays for the GoPro Wifi bacpac
From what I can theorize, GoPro is having some serious complications with the device. Although the exact problem is unknown, I can only speculate that the problem involves both technical and assembly (production) problems. Why?
Technical Problems (Bugs)
Technical problems are usually found when a device is tested during its development. These technical problems for the GoPro wifi-bacpac could involve a number of complications ranging from wifi reception problems to unexpected battery drain. Additional delay problems could also be blamed on smartphone apps that are expected for the iPhone and Android. The apps might involve some kind of technical issues with a number of mobile devices, bluetooth reception, and so on. Simply put it, when you have a cool product that has a lot of awesome features, it's very likely to run into problems.
Production Problems?
A likely factor and what I'm really leaning more on to is production problems. In assembly lines, a shortage of one component could lead to a shortage of another that potentially can affect the whole supply chain. This chain reaction can cause delays. In addition, the current economic environment of the entire globe could be hindering production. Problems such as rising fuel prices to currency wars especially with China are not helping our comparative advantage of goods manufactured abroad. BTW, GoPro cameras are made in China.
A Good Lesson to Learn From
As a thought blog, my reasons to the delays could be wrong. However, the wifi bacpac setbacks as we are seeing provide a good lesson to learn from. The lesson: Don't announce your products until you know for certain that it's absolutely ready to be released. Announcing dates is similar to setting time limits and pressure to the development of your product.
I think that's a reason why a lot of great products such as the Canon 5D Mark 3, the GoPro Hero 2, and the iPhone series have secret release dates. It's just something to think about especially for products that have tons of fans.
Check out these comments I've been getting…
Adamgo.com Guest 1

Now the website states Spring? How long will that be? And more important where is the problem? Is it unfixable? Will there be a decent product eventually?

(Google +)
It's April 12th. Where is it? 🙂

At CES they said March for $99. Patience indeed. How about punctuality? 🙂


(Update as of 4/20/2012… the wifi-bacpac's new expected release date is Summer, 2012!)

Other Blogs Relating to the delay of the Wifi BacPac: